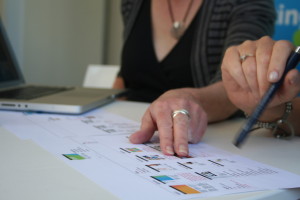 Your website is a vital part of your brand and how you communicate not only with your target audience, but also with the general public as well.
When working with our clients on their new website build, we urge them to consider the following points before we commence the brief with them. We ask that they have a good look around the web at sites that appeal to them and those that don't. These sites can be in markets totally different to their own. We encourage them to take a note of the elements they would like on their site from both a design and functionality perspective.
Here are ten points which we give to our clients to help them think about and formulate their brief:
GOAL: Think carefully about your aims for the site and make that the first thing you talk to us about. Try and verbalise or sketch out what you feel the successful aspects of the site look like. Talk to us about why you require a website and what needs are going to be met with the site. This will give our team a goal to work towards and projects are always much easier to progress when there is a goal in sight.
BUDGET: Give us a budget and we'll agree on terms if the build looks as if it is going to go over budget. This way our design and development team can prioritise the 'must-haves' over the 'quite-likes' which can be built in at a later date. If you are concerned about our integrity, we'll happily give you references.
TARGET MARKET: Do some analysis on your customers and potential customers. Are they tech savvy? What sort of navigation will your site need?  Know what your users want. Will they want to see a portfolio of your work? Do they want to buy something? Will they want to connect with or contact you? Try to stay away from what you want the users to see of your company and build the site with the users needs in mind.
CONTENT MANAGEMENT: Work out how your site is going to be updated. Will you or a member of your team be responsible for uploading new content or images? This is important, as it will determine which platform your site is built on and how much contact you will need to spend with us after the site is finished.
TIME FRAME: Have a time frame in mind. Many businesses and individuals often underestimate how long it takes to gather content and images for their website. Think about what content (images and words) is going to go where and then create like mad so you have something to give your agency. Try to think of content as the furniture that makes your newly built house (your website!) into a home.
SITE STRUCTURE: Ensure you have at least a rough idea of how your site is going to work. Write down a list of pages and have a page hierarchy. Work out which pages (topics) should be included in the main navigation menu and which pages would sit comfortably as a minor footer link. We will make sure that your site is structured for online search and search marketing requirements.
DESIGN: Specify any design requirements at the time of briefing. Provide us with all your fonts and colours, and any logos. Our team can then work with you to create a mock-up of how you would like the site to look so that the website is an extension of your brand.
TECHNICALITIES: Most websites built nowadays will be responsive, meaning that they can be viewed easily on any mobile device as well as a computer – we can make sure that your website will be responsive too. Do you have any security issues that need to addressed, have you already registered your domain name? Talk to your us about hosting options as we may be able to provide you with a more cost effective solution.
TESTING: Before your site goes live, we will have a test site online for you and your staff to test the functionality, usability, navigation, look and feel of the site and any links. Make sure that anyone who is going to be involved in the day-to-day running of the site extensively tests all these aspects before you sign-off on the finished project. Going live with a broken site is not a good look.
MEASUREMENT: Put something in place to measure the success of your website. This could be as simple as including a 'contact us' form or opt-in box where people sign-up for a newsletter or an eBook or even an entire quote. Install Google Analytics on to your site to see how people interact with it and which pages are visited most often. We will will also be able to assist you with suggesting the best measurement tools for your site.
We have a systemised process which includes the development of the brief and goes right through planning and development to site launch.
Whenever we partner with a client to build their site, our ultimate aim is to provide them with a great looking website that functions the way they intend it to. We have found that keeping an open dialogue with our clients is the best way of achieving this and guiding them through the web design and building process. This list helps us stay on track and gives both ourselves and our clients a common base to work from.
Want some help with your website?  Get in touch with us today.